---
Mind, Brain and Pronunciation: How thoughts, emotions, and experiences affect L2 English pronunciation
(2nd October 2021), PronSIG Online Conference
---
Welcome to the IATEFL PronSIG Conference!
How can English language teachers make use of the potential of the brain/mind to support their students' receptive and productive pronunciation skills?
From the moment we are born our brains are constantly at work, categorising the sounds of our mother tongues and enabling us to remember and produce language utterances. When it comes to the use and pronunciation of an additional language, the brain's capacity to store, retrieve, and use new sounds is fascinating and complex. However, this is not always taken into consideration in the practice of everyday teaching of English. What role do variables such as experience, emotion, confidence, mindfulness, cognition, processing, or memory have on pronunciation?
PronSIG's 2021 online conference hopes to explore these questions, providing participants with a deeper understanding of how the brain/mind can influence and improve English pronunciation teaching and learning.
The event will feature presentations and workshops on the following topics:
anxiety and fear of speaking/ producing an L2,
neuroscience and pronunciation,
memory and pronunciation,
teaching practices and techniques to support anxious students,
creating mindful pronunciation classroom activities,
the effects of attitude and motivation on pronunciation.
---
GOLD award by EVE!
IATEFL PronSIG's October 2021 Conference has been awarded a GOLD award by EVE for representation among our line-up of speakers!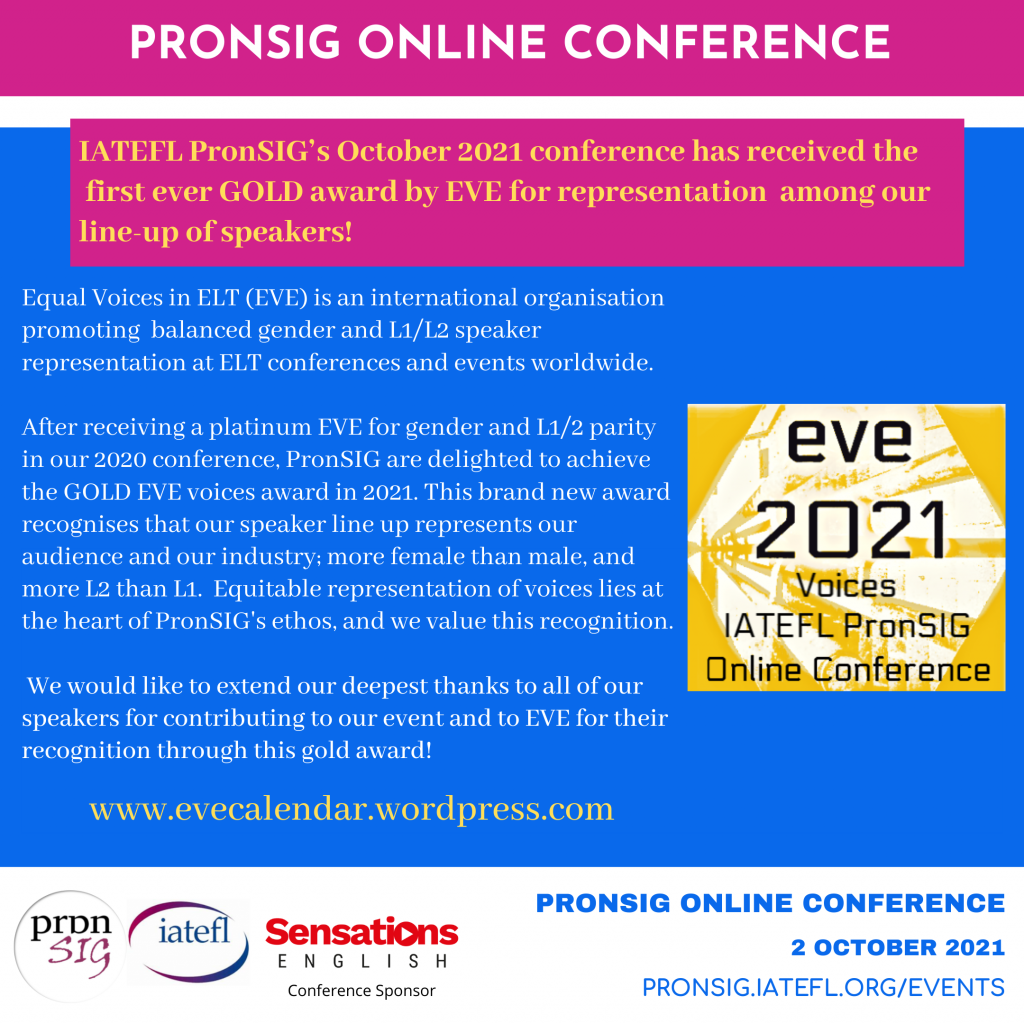 ---
Our Plenary Speakers
Opening plenary: The role of memory on the individual differences in acquiring L2 pronunciation skills by Akiko Kondo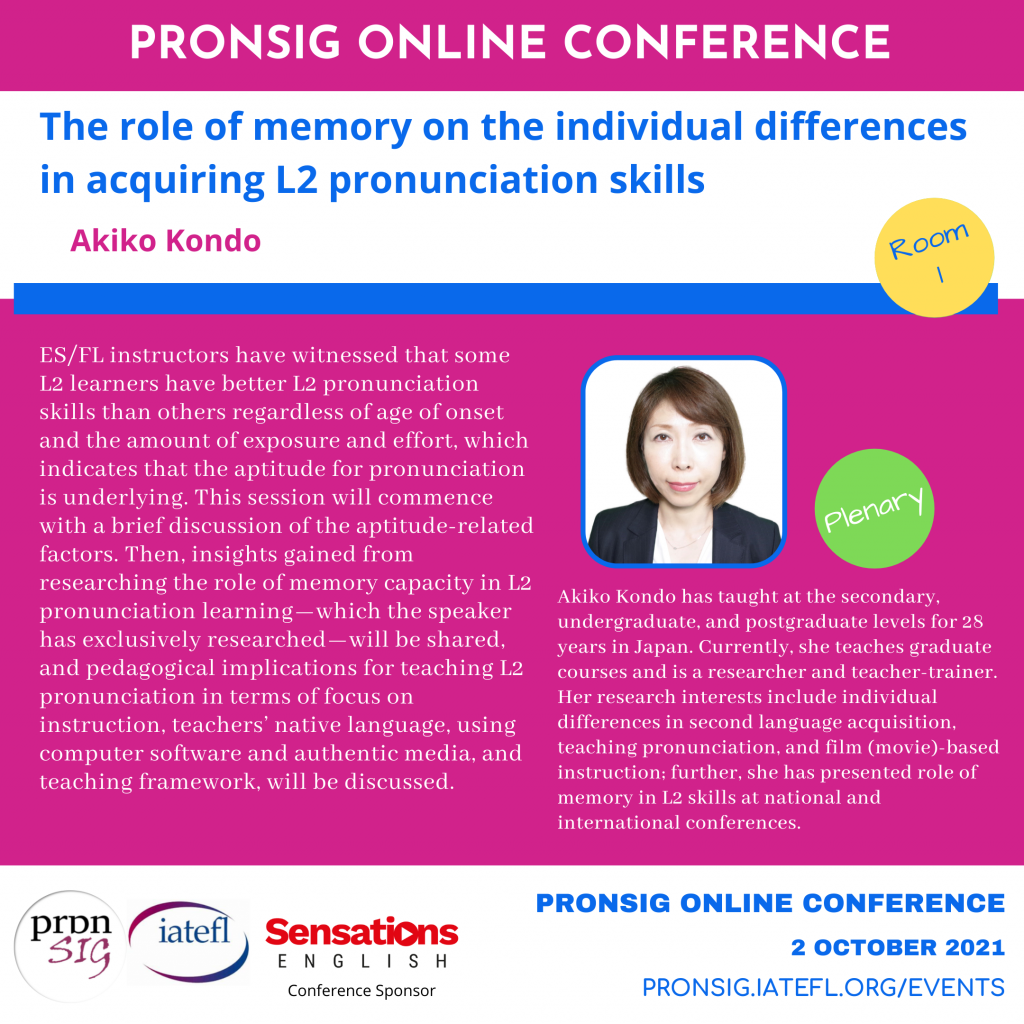 ---
Closing plenary: The effects of individual learner variables on English pronunciation learning efforts: What teachers need to know by Veronica Sardegna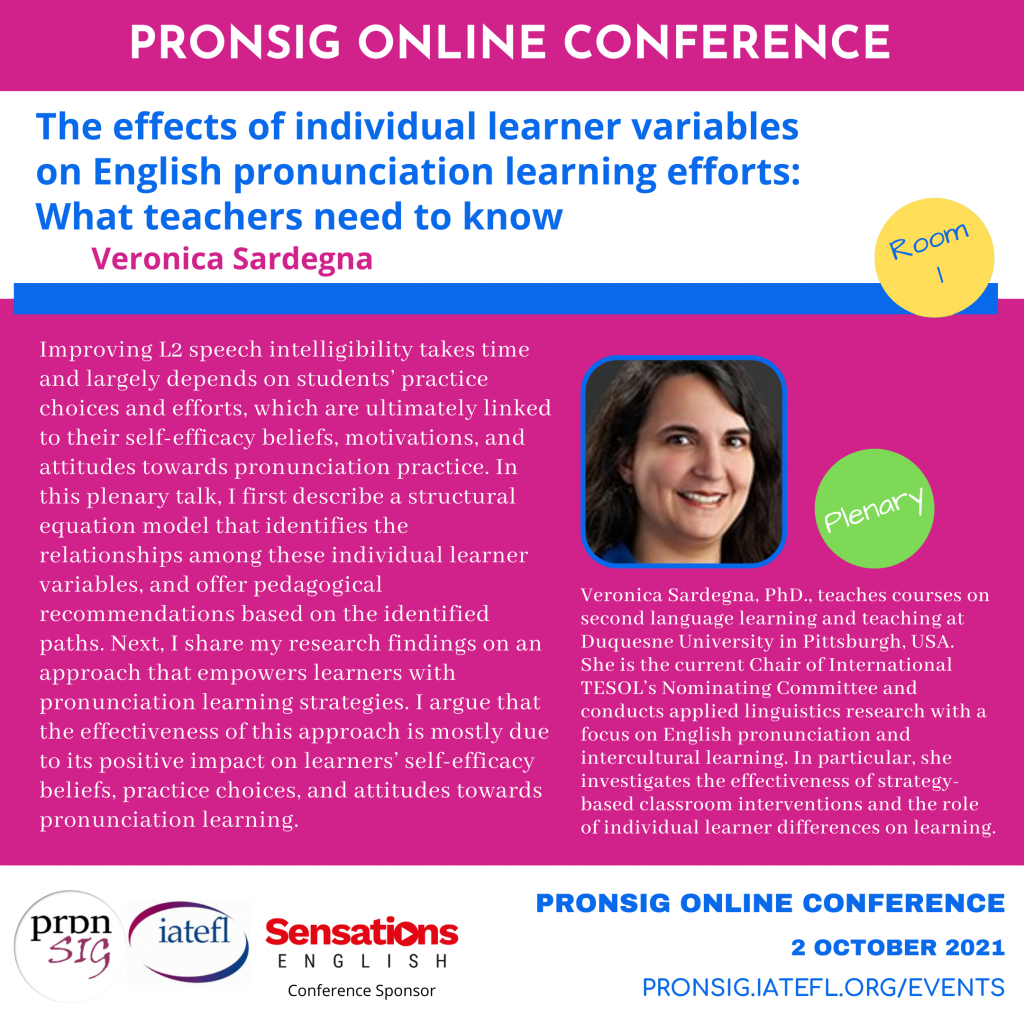 ---
Registration
The event tickets for the PronSIG Online Conference are available via the IATEFL website. Click the yellow button below to go to the registration page:
You are required to register for this event by 29th September 2021 and on registration, please check your inbox and any junk mail boxes for this registration confirmation email. In the days before the conference, the programme and links to the rooms will be sent to you via email.
Tickets: General admission: £5, IATEFL members: £3.50, PronSIG members: free (check email for code)
Recordings of all sessions will be available to attendees (ticket holders) after the conference.
---
Schedule and Programme
The online conference will take place on Zoom and to view the programme, please click below.
Please note sessions are subject to change.
---
All speakers below:
---
Sponsor
We are happy to announce that Sensations English is PronSIG's Online Conference Sponsor.
---
We look forward to you joining us online!